COLLAGE / Moonshine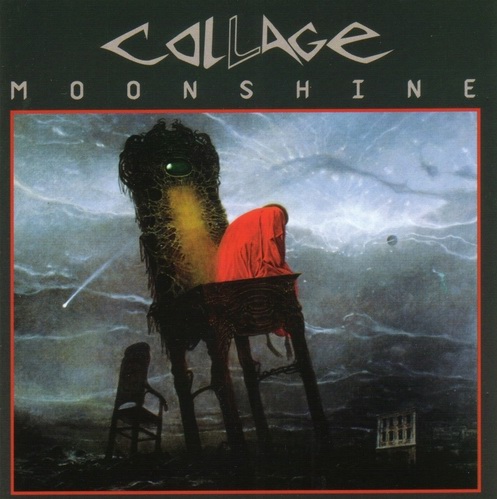 From the shocking introduction to the last tune "War Is Over", whole this album carries me an uproar of Polish delight at the period soon after they escaped from the domination of Soviet Union by the end of the Cold War.
It is full of the sweet melodies in a serious solid mood with Mirek Gil's whizzing guitar sound that makes my heart flutter sinking deeply inside and is a monumental achievement album of melodic symphonic rock.
In an aggressive part, it is studded with romantic, elegant ballads such as "Living in the Moonlight" which makes me raptly intoxicated.
COLLAGE in itself was once dissolved after the next "Safe" album, but there have been many splendid bands of melodic symphonic rock affected by COLLAGE in Poland now including QUIDAM, MOONRISE, etc.
I think that the credit for this great accomplishment that they founded the basis of melodic symphonic rock in Polland goes to COLLAGE.
COLLAGE has revived in this autumn as if they celebrated this site start (should not do!).
At the end of '13, they are said to carry out a live activity and to have a plan to release new album in the coming year.
衝撃的なイントロから終曲の"War Is Over"まで、冷戦が終わりソ連の支配下から脱して間もない頃のポーランド人の歓喜の様子が肌に伝わってくるアルバムです。
硬質な中にも甘ったるいメロディー満載で、キュン、キュンと泣くMirek Gilのギターが胸に染み渡るメロディック・シンフォの金字塔アルバムです。
攻撃的な部分の中に、"Living in the Moonlight"のようなロマンチックで優美なバラードが散りばめられていて、うっとりと酔わせてくれます。
COLLAGE自体は次の"Safe"発表後に一度解散しますが、現在もポーランドにはCOLLAGEの影響を受けたメロディック・シンフォの素晴らしいバンドがQUIDAM,MOONRISEをはじめ多々あります。
ポーランドでメロディック・シンフォの礎を築いたCOLLAGEの業績大だと私は思っています。
このサイト開始を祝ってくれたかのように(なわけないですね)、COLLAGEが復活しました。'13年末は、ライブ活動を行い、来年には新作発表予定だそうです。
to the Page of My Favorites List (2001~)
to the homepage of COLLAGE
to ProgArchives.com
to amazon.com
ワールド・ディスク
ガーデン・シェッド
カケハシ・レコード
ディスク・ユニオン
関連記事
スポンサーサイト