CINEMA / Into the State of the Flux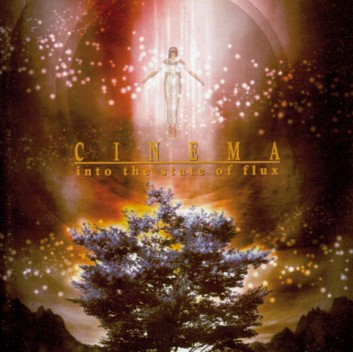 CINEMA is a Japanese melodic symphonic rock band of six musicians and a composer.
I think the basic tone of CINEMA is GENESIS-CAMEL-like, but they acted mainly at Kyoto(京都), so their music has not been influenced by GENESIS and CAMEL any more, we can listen to mild and graceful melodies performed influently with a warm atmosphere abundant in Japanese scenaries.
Even if I said "Japanese scenaries", the scenaries are not classical images of Gagaku("雅楽"), Nougaku("能楽") or Kabuki("歌舞伎") from the Nara or Heian era to the Edo era (600A.D.~1860), but they mean to be bright and idyllic images of Rokumei-Kan("鹿鳴館") or Konjiki-Yasha("金色夜叉") in the Meiji or Taisho relatively modern period(1870~1920).
Without going to be too passionate, technical or extravagant, their music inweaves finely the gentle impression of the ancient city with a Japanese own peculiar arrangement which could not be listend to in Europe or America.
However, it does not become healing music or easy listening, comprises the elegant female vocal followed by guitar or violin solo supported by the stable rhythm section as one of definite rock music style.
I would like to recommend it as rock music expressing Japan also to everyone of Europe and America.
CINEMAは日本のメロディック・シンフォ・バンドです。
基調はGENESIS,CAMELあたりだと思いますが、京都を活動拠点とするバンドで、もはやGENESIS,CAMELを引きずる部分はなく、日本の情緒をふんだんに盛り込みながら、斬新なアイデアで流麗に温和で優美なメロディー・ラインを聞かせてくれます。
日本調とは言っても、奈良・平安時代~江戸時代の(西暦600年~1860年)雅楽能楽や歌舞伎と言った古典的なイメージと言うよりも、より近代の明治・大正期の(1870年~1920年)鹿鳴館とか金色夜叉という雰囲気ののどかな明るいイメージです。
激情や技巧や華美に走ることなく、欧米の音楽では聞くことができない日本固有のアレンジを施しつつ、落ち着いた古都の印象をきめ細かく織り込んで行きます。
かと言って、ヒーリング音楽やイージー・リスニングになっているわけではなく、安定したリズム隊と柔和なキーボードに支えられ、美しい女性ボーカルにギター、バイオリンのソロが続いていく、しっかりとしたロックの一スタイルとして構成されています。
日本を表現しているロックとして、欧米の皆さまにもお奨めできます。
to the Page of My Favorites List (2001~)
to the homepage of CINEMA
to ProgArchives.com
to a trial listening page of CINEMA
to amazon.com
ワールド・ディスク
ガーデン・シェッド
カケハシ・レコード
ディスク・ユニオン
関連記事

CINEMA / Into the State of the Flux
スポンサーサイト