TEMPUS FUGIT / Tales from a Forgotten World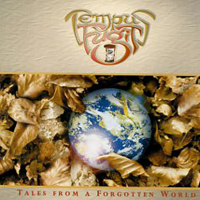 In the 80s, I was pressed by daily work, so I did not have a time to listen to music at all, then in the 90s, I could have a time to embark on a trip to search for good music, but OASIS or RADIOHEAD which were popular at that time disagreed with me, it might have been only KULA SHAKER that could manage to satisfy me.
And in the mid 90s, I happened to know PENDRAGON which I found in HMV Shinjuku-Takashimaya shop which has been already closed, but I had no information source or GOOGLE to let me know where I could get same kind of music as PENDRAGON.
I rode a wave of the Internet which had prevailed in Japan, and I had a net-friend tell the shop, World Dispue or GardenShed, but because about a half of a year from the CD release made it out of stock, so, it was difficult to get this CD produced in Brazil which had been regarded as a remote region, even if Brazil CDs are commonly available now and the next Olympic Games are to be held there.
And furthermore after a half of a year, I obtained it finally, I remember so.
I was marvelously moved to listen to the music.
It was worth having had a long hard time.
There comes scarcely such a shocking event.
The guitar and the keyboards are overlapped to perform sweet, graceful melodies which surge from a wave to another as if it were a flood.
Nevertheless, sense of rushing, straining and soaring, structural beauty calculated completely, and dramatic development full of stories allowed me to conclude that this CD was a supreme masterpiece of melodic symphonic rock.
The impression is not varied even when I listen to it now.
仕事に追われて音楽を聴く余裕が全くなかった80年代から90年代に入り、良い音楽はないものかと探索の旅が始まりましたが、当時人気バンドだったOASISとかRADIOHEADとかは肌に合いませんでした。
気に入ったのはせいぜいKULA SHAKERくらいなものです。
そして90年代中頃に、閉店してしまったHMV新宿高島屋店で見つけてPENDRAGONを知ったわけですが、情報源もgoogleもなく、どこに行けば同様の音楽に出会えるのかがわかりませんでした。
流行し始めたインターネットを自分も始めて、そこでやっとWorld DisqueとかGardenShedという店を教えてもらったのですが、既に発売から半年位過ぎていてブラジルものということで在庫切れで入手できず(World Disqueの中島店長に、だからさっさと買っときなさいと言ったでしょうと叱られた記憶があります。今だからこそ次の五輪開催地でブラジルのCDもよく流通していますが、当時は辺境ものでした)、入手できたのは、それからさらに半年位たってからだったと思います。
聴いてみて、感動しました。
苦労した甲斐がありました。
こういう衝撃的なことはそうはありません。
キーボードとギターとが織り重なるように弾きまくる甘く優美なメロディーがあとからあとから洪水のように溢れ出てきます。
にもかかわらず、その疾走感、緊迫感、しっかりと計算し尽くされた構築美、物語性のある展開、どこをとっても、メロディック・シンフォの最高傑作の一枚でした。
今聞いてみても、その魅力が薄らぐようなことはありません。
to the Page of My Favorites List (2001~)
to ProgArchives.com
to a trial listening page of TEMPUS FUGIT
to amazon.com
ワールド・ディスク
ガーデン・シェッド
カケハシ・レコード
ディスク・ユニオン
関連記事

TEMPUS FUGIT / Tales from a Forgotten World
スポンサーサイト