PICTURES / Painting the Blue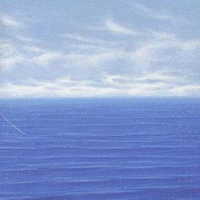 PICTURES is a hardly-known band from Turin in Italy.
I cannot understand at all why this band is scarcely talked about greatly on the internet.
Is this because they disappeared only with this one album, or a jacket design is too austere, or an easy band name is hard to be picked up by a search of GOOGLE and Youtube?
Any element of PICTURES such as the technical keybordist, the crisp tight rhythm section and the vocal full of poetic taste just as an Italian is a first-class article.
The splendid clear-voice vocalist is one of my most favorite vocalists comparable to Alluisio Maggini of CLEPSYDRA, Maurizio Mercandino of CAP (Consorzio Acqua Potabile) and Mark Smit of KNIGHT AREA.
The sobbing guitar spurting from the soul, the lyrical piano purling fluently and the emotional ballad such as "Last Exit" are so impressive that I cannot find terms to explain.
It is sure that their melodies are catchy like BOSTON or JOURNEY but their performance is fairly fruitful, so, I think that they should be evaluated more highly.
I would like by all means to support a band fading from your memory in spite of all passion to rock music.
PICTURESは、イタリア、トリノ出身のほぼ無名のバンドです。
私には、このバンドがどうしてネット上で大きく取り上げられないのか、全く理解できません。
この1枚で消えてしまったからなのか、ジャケットが淡泊すぎるのか、バンド名がGOOGLEやYoutubeの検索にかかりにくいからなのか?
技巧派のキーボード、歯切れの良いrhythm section、イタリアらしい歌心溢れるボーカル、どれをとってもPICTURESは一級品です。
光り輝く透明なボーカルは、個人的には、CLEPSYDRAのAlluisio Maggini、CAP(CONSORZIO ACQUA POTABILE)のMaurizio Mercandino、KNIGHT AREAのMark Smitと並んで、最も好きなボーカリストの一人です。
ほとばしる泣きのギターも、サラサラと弾かれる叙情的なピアノも、"Last Exit"のような情感溢れるバラードも感動的です。
メロディーがキャッチーな産業ロック系であることは確かですが、BOSTONやJOURNEYなどと比較して、演奏は極めて充実しています。もう少し、高く評価してあげてもよいのではないでしょうか?
情熱を感じさせてくれながら埋もれてしまうバンドは、どうしても応援したくなるなあ。
to the Page of My Favorites List (2001~)
to ProgArchives.com
to amazon.com
ワールド・ディスク
ガーデン・シェッド
カケハシ・レコード
ディスク・ユニオン
関連記事

PICTURES / Painting the Blue
スポンサーサイト