KARNATAKA / Delicate Flame of Desire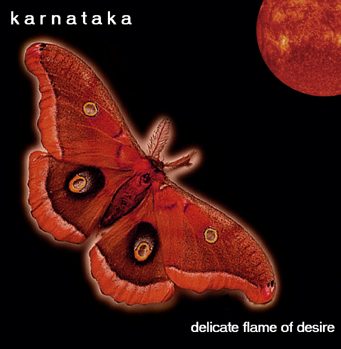 This album is the masterpiece of mastermieces in melodic and symphonic rock.
If you would not fall for this album, I comment that you cannot go well with that kind of music.
I seriously disappointed that divorce of Joneses had led them to be disbanded (formed again).
Short introduction titled "Karnataka" is followed by "Time Stands Still", which takes me in a trance with the beautiful voice of Rachel Jones.
"Strange Behaviour" strokes my worn-out mind calmly and tenderly.
I often hear about comparison between Rachel Jones and Ann-Marie Helder, but I think that the sophisticated back-vocal support of Ann-Marie Helder gives us splendor of this album.
And I want to describe that the guitar tone played by Paul Davies raises this album to the heavenly stage.
When Paul's guitar upsets in "The Right Time", tears overflow my eyes.
このアルバムは、メロディック・シンフォの傑作中の傑作です。
このアルバムに傾倒できないなら、あなたにはメロディック・シンフォは似合わないということです。
Jones夫妻の離婚によりバンドが壊れてしまった(再結成されていますが)のは残念でなりません。
"Karnataka"と題された短いイントロに続く"Time Stands Still"は、Rachel Jonesの美声によって私を忘我の境地に酔わせてくれます。
"Strange Behaviour"は、疲弊した私の心を穏やかに優しく撫でていきます。
Rachel JonesとAnn-Marie Helderを比較する記事をネットでよく見かけますが、Ann-Marie Helderの秀逸なバック・ボーカルがこのアルバムに輝きを与えているように私は思います。
Paul Daviesのギターもこのアルバムを引き立たせています。
"The Right Time"でPaulのギターが裏返るとき、涙が私の目に溢れます。
to the Page of My Favorites List (2001~)
KARNATAKAのホームページへ
ProgArchives.comの紹介ページへ
to amazon.com
ワールド・ディスク
ガーデン・シェッド
カケハシ・レコード
ディスク・ユニオン
関連記事

KARNATAKA / Delicate Flame of Desire
スポンサーサイト