MOSTLY AUTUMN / The Last Bright Light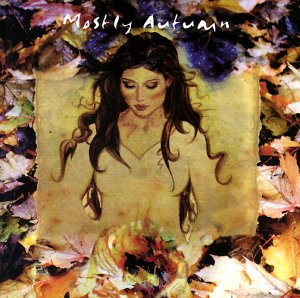 This is their third album I like the best as they have been gradually leaving from my taste after this album, and is full of pop sensibility such as the tunes, "Half the Mountain", "The Dark before the Dawn", "Hollow", "Never the Rainbow", "Shrinking Violet", "Mother Nature", all of which are pearls of good songs.
The violinist left the band, so celtic fashion would have been slightly faded and the rock mood was strengthened.
In accordance with the album title, splendid sunlight spreads over pastoral scenery and tranquil atmosphere produced by delicate tones of the accoustic guitar and the flute coexists with the bold and powerful gauitar played by Bryan Josh.
About at the time when this album was issued, they went around a live tour with BLACKMORE'S NIGHT and the "Hanging Tree" illustration painted by the vocalist Heather Findley appears in the brochure enclosed within the album "Fires at Midnight" of BLACKMORE'S RAINBOW, which is described in the Wikipedia.
彼らの3枚めのアルバムですが、このアルバム以降私の趣味から離れてくるので、私が最も好むアルバムです。ポップ・センスに溢れていて、"Half the Mountain","The Dark before the Dawn","Hollow","Never the Rainbow","Shrinking Violet","Mother Nature"などの珠玉の名曲揃いです。
バイオリニストがバンドから離れ、ケルティック色がやや後退し、ロック調が強くなっています。
アルバム・タイトル通り、光り輝く陽光が田園風景に広がり、繊細なアコギとフルートが醸し出すのどかな雰囲気がBryan Joshの演奏する野太いギターと共存しています。
このアルバムが発表された頃、彼らは、BLACKMORE'S NIGHT とともにライブツアーを回っていて、BLACKMORE'S RAINBOWのアルバム"Fires at Midnight"に付属している冊子にはvocalistのHeather Findleyが描いた"Hanging Tree"の絵が載っています(Wikipediaに書かれています)。
to the Page of My Favorites List (2001~)
MOSTLY AUTUMNのホームページへ
ProgArchives.comの紹介ページへ
to amazon.com
ワールド・ディスク
ガーデン・シェッド
カケハシ・レコード
ディスク・ユニオン
関連記事

MOSTLY AUTUMN / The Last Bright Light
スポンサーサイト