KNIGHT AREA / Realm of Shadows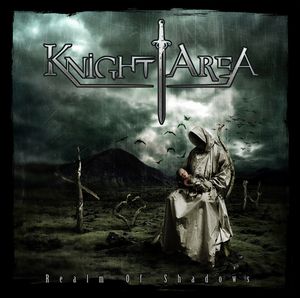 They have already released four studio albums, all of which are high-quality progressive rock, so I waver the choice of their best album.
Formerly, I listend many times to "Two of a Kind" on
the progressive rock radio : morow .com
included in the album "Realm of Shadows".
When I listened to this album for the first time, I was surprised and deeply impressed same as TEMPUS FUGIT 1st album "Tales form a Forgotten World", and it was this album to guide me in the discussion on the Internet about progressive rock once again.
Tidy vocal style, flowing sound of keyboards, solid as well as lyrical guitar, singing bass and dramatic development with Gothic taste conduct sometimes rough, other-time beutiful and brilliant melody lines, and is constructing a completed symphonic world.
彼らは、スタジオ・アルバムを既に4作発表しています。
いずれも完成度が高く甲乙つけ難いのですが、以前、morow.comで"Two of a Kind"をよく聴いたので、この曲が収録されいている3rdを挙げて起きます。
このアルバムを最初に聴いたとき、TEMPUS FUGITの1st "Tales from a Forgotten World"を聴いたときのあの驚きと感動が蘇ってきました。
私にもう一度ネットに出て行こうという気にさせてくれたアルバムです。
端正なボーカルと流麗なキーボード、ソリッドであってリリカルなギター、歌うベース、ゴシック調のドラマチックな展開が、時に荒々しく、時に美しく煌めくメロディー・ラインを繰り広げ、完成されたシンフォニック・ワールドを構築していきます。
to the Page of My Favorites List (2001~)
KNIGHT AREAのホームページへ
ProgArchives.comの紹介ページへ
to amazon.com
ワールド・ディスク
ガーデン・シェッド
カケハシ・レコード
ディスク・ユニオン
関連記事

KNIGHT AREA / Realm of Shadows
スポンサーサイト