PENDRAGON / Believe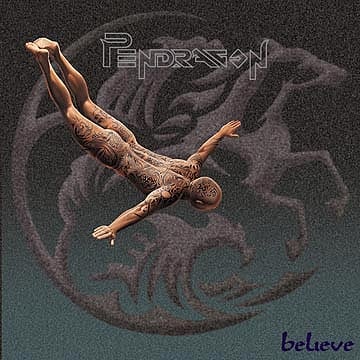 This is the first album which they would try to switch from the fantasic melodic course to the hard-symphonic course.
I suppose that they might have consider the drummer: Fudge Smith who had been criticized for his mild drumming I think to be suitable for the melodic and symphonic rock, so in this album the rhythm roughness was intensified while the acooustic guitar was used a lot for the melodic-oriented listeners, but he has withdrawed from the band.
His name also disappears in HENRY FOOL's second album "Men Singing" (2013).
Dreamy euphoria in the album "World" or "Window of Life" was replaced with a gloomy atmosphere exuding from this album, which might have shown the change of Nick Barrett's mind.
彼らが、幻想的メロディック路線からハード・シンフォ路線に転換しようとした最初のアルバムです。
思うに、軟弱ドラマー(メロディック・シンフォには合っていたと私は思います)と批判されていたFudge Smithへの配慮があるような気がしますが、このアルバムではリズムの激しさが強化されています。一方で、メロディック派にも配慮して、アコギが多用されています。
ですが、Fudge Smithはバンドを脱退してしまいました。2013年のHENRY FOOLの2ndアルバム"Men Singing"にも彼の名前は見えません。
"World"や"Window of Life"の頃のドリーミーな幸福感は、本アルバムからにじみ出てくる暗い雰囲気に入れ替わりました。Nick Barettの心境変化を映すものかも知れません。
to the Page of My Favorites List (2001~)
PENDRAGONのホームページへ
ProgArchives.comの紹介ページへ
to amazon.com
ワールド・ディスク
ガーデン・シェッド
カケハシ・レコード
ディスク・ユニオン
関連記事
スポンサーサイト